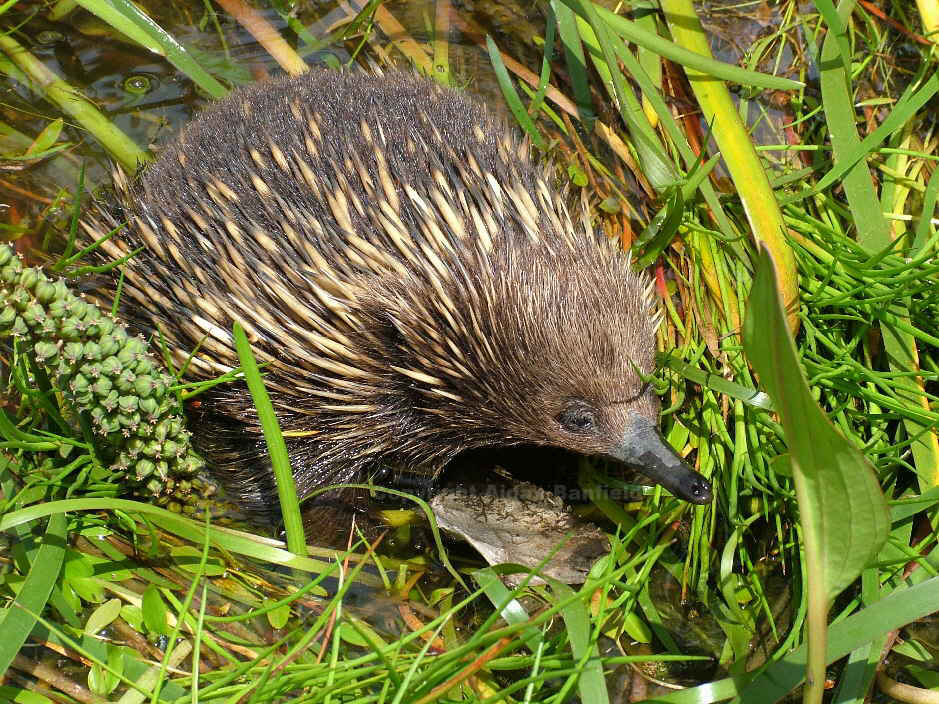 Echidna going for a dip in a small shallow wetland at Redman Bluff Wetlands
WETLANDS INFORMATION www.wetlandsinfo.net.au
Just looking at these few pictures on our home page, taken at a select few wetlands on the eastern edge of the Grampians National Park in Victoria, Australia gives a hint at how beautiful, diverse and full of life wetlands can be. They are also full of surprises, like the Echidna pictured above.
Finding information and pictures of wetlands, their plants and animals is not always an easy thing to find. I've been in the fortunate position to visit, photograph and observe many wetlands and their inhabitants, and for some time have been wanting to share this information with those of you who are interested. The internet (and finally learning how to build a web site!) has provided the means. Please bear with me as I progressively build this site. It's small now but bit by bit I'll keep it growing, so please book mark it and when you have a spare moment have a look to see what has been added.
If you have any constructive comments, information or photos about wetlands you know about and that you would like added to www.wetlandsinfo.net.au please email them to me (see contacts at top left of any page of the site) and I will do my best to add any appropriate material as time permits.
I hope you enjoy this site, and that you are able to gain some useful information about some of Australia's beautiful wetlands, wetland plants and the animals that rely on them.
Regards
Aidan Banfield.
Copyright
Copyright: Pictures, text and other material in this web site are copyright to Aidan Banfield (unless otherwise indicated - eg. copyright belongs to a third party). Where I am happy for information to be copied and distributed (eg. PDF brochures) this will be indicated on the relevant page, and can be done without the need to contact me so long as the information is copied complete, is not modified or changed and the source acknowledged.
As my aim is to promote awareness of wetlands I am often happy for the information / photos in this web site to be used by others, but you do need to ask. Please contact me to discusses what you would like to do. Permission if granted, will be at my discretion. Conditions will apply, as may a fee for use of photos (particularly if it is for a commercial use).
Photos in this website are of a low resolution and compressed to make the web site faster. They often also contain a watermark. I have high resolution versions which are more suitable for print media and slide show presentations. If permission to use the images is granted I can email / send high resolution versions to you.
Links not working
If you click on a link and nothing happens, or it takes you back to the top of the page, then I have not yet prepared that page, or image. This site is a work in progress, so I have prepared for new information (links that don't yet do anything) and as time permits I am progressively working on this website. My apologies for any inconvenience.